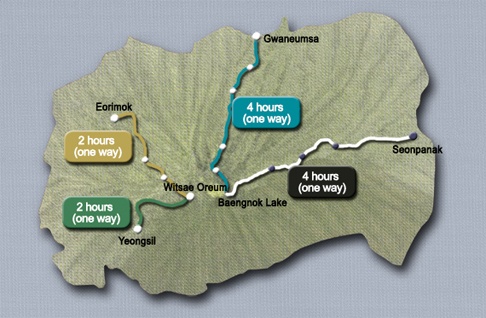 Gwaneumsa Course
The valley is deep and the geographical features of the mountain is magnificent so you can see its true colors. But the course is rather difficult that's because the trail slopes.
From the top, you can go downhill to Gwaneumsa or Seongpanak.
Course Infomation
Gwaneumsa campsite~ Baenokdam :

8.7km, one way : Around 4hours needed

Entry limited Time

Summertime 10:00, Wintertime 09:00 at the control office

Booth, Toilet:

Gwaneumsa Campsite
Traffic Infomation
By taxi:

Guesthouse → Gwaneumsa Campsite : 15,000KRW

By bus:

No Service
Some Tips
From the start till the one-third point, Tamna Valley, the trail is gentle but, after that it slopes.
You can enjoy spectacular sceneries while trekking such as Guringul, Samgakbong, Yongjingak and Wanggwanneung.
From Yongjingak to the top, the altitude gap is over 300m that's why it's very hard to trek.
In winter, you must prepare climbing irons(crampons).
(At Gwaneumsa campsite canteen: 5,000KRW)
At Gwaneumsa campsite Booth, you can buy several kinds of things to eat and drink such as gimbap and chocolate bar.
The trail is almost composed of rocks so you should put on trek shoes or mountain-climbing boots.
Be sure to prepare enough water and snack.
It is the best course departing from Gwaneumsa and finishing at Seongpanak.